Gacha is a function to summon a new Units. It call for the souls, copy them and then reincarnate them into this world as a new existence. All Units appearing in Gacha will be sent to "Unit (others)" in "Item box". Those units sent this way won't be expired permanently.
Interface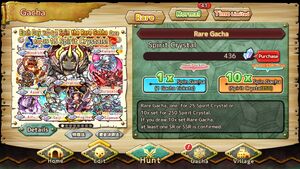 Type
There is several types of gacha:
The Gacha that consumes Friend Points (FP) to summon new Units. Primarily used to fish for the starter 3 goblins(Gobusa, Gobuma, Gobuka) as well as the new SR Goblin, Hobuno, and for Golden Snakes. These goblins are the only ones who can upgrade their rarity through evolutions[1], just like the Main Character. An LE Golden Snake will be granted after every 5 Multipulls of the Friend Gacha as a reward.
One pull from this gacha cost 100 FP [2] and player get one pull for free each day.
The Gacha that consumes Spirit Crystal (SC) to summon Units. Has a higher chance for powerful Units to appear than Normal Gacha.
This gacha required 25 SC for one pull, but for first pull of the day got a discount and cost only 15 SC. Multiple pulls cost 250 SC. Player will receive 10x units + 1 bonus unit (atleast a SSR [3]) from all multiple pulls.
Notable powerful units that can be acquired:
LE++ Wisdom Rou, 8 Generals LE+ (Kichi, Mi, E, Sei, Sato, Ji, Me, Fu), LE High Roller. Gacha Probability:
2.5% LE+(LE++ Included), 7.5% LE, 30% SSR, and 60% SR.[4]
The Gacha that consumes Spirit Crystal to summon Units. It is also the type of Gacha that only available for a limited time period. The gacha has different units pool than Rare Gacha.
The Gacha that uses specific ticket to summon units.
Gacha Ticket
An item that can be used to pull from a gacha for free. There are exist several types of gacha tickets. These tickets can be acquired by several ways: from a limited time mission, hunt stage drop, or bonus for several multiple pull. These gacha has different units pool.
Gacha tickets list:
Rare Gacha Ticket
Summer Lottery Ticket
Hot Season Lottery Ticket
SSR or Better Gacha Ticket
Guaranteed LE Ticket
LE or Better Gacha Ticket
Re:Monster Rock Fest Ticket
LE or Better Gacha Ticket (2)
Beginner Guaranteed LE Ticket
Guaranteed LE+ Ticket
LE or Better Gacha Ticket (3)
Shark Teeth Gacha Ticket
Stellar Sorcery Gacha Ticket
Tsukimi Gacha of the Full Moon Ticket
Dark Continent Second Edition Gacha Ticket
Dark Continent Third Edition Gacha Ticket
Although several tickets have same name but it may contain different units pool than can be pulled.
Summoning Animation
When the player pulls from a gacha there is a summoning animation played by the system before the pulled unit(s) revealed. The animation vary, depend on the highest rarity of unit the player got from the gacha.
The unit pulled can be differentiated by the color theme during the summoning:
Note
Miscellaneous
See also Gacha
Re:Monster Game Content

Community content is available under
CC-BY-SA
unless otherwise noted.