Royal Capital Shop is a place where player can exchange several in-game currencies for various things like units, materials, gacha tickets, and other items with in-game shop currencies.
Interface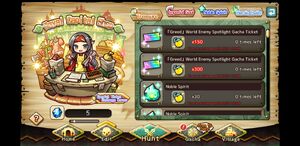 Currency Type
There are four types of shop currencies:
Hunter's Proof
This material can be acquired through events, missions, raids and so forth. This section of the shop used to contain past events' materials updated monthly but these are no longer available as of November 2019. This portion of the shop no longer updates materials. instead, the materials that can be obtained here are a constant except for special events (discussed later). Subsequently, materials with purchase limits are the only things that ever get refreshed at the start of every month. Please note: evolution keys and meat that were formerly available in the tower, can now be obtained here with hunter proofs.
There are now also items that can be exchanged here that require currency other than hunter proofs. Namely, Essence Stones and Spell Books can be exchanged for 10 Spirit Stones and Tomes, respectively, for each respective element. For example, 10 Fire Spirit Stones can be exchanged for 1 Fire Essence Stone. The bar at the bottom left has been updated to reflect the addition of these new exchange items. Please refer the the list for more details.
On occasion, special stages will appear that can drop materials that can be exchanged here. For example, during golden week 2020, golden apples were a material that worked just like usual material but had the added benefit of being able to be exchanged for premium items like elixir and tickets to summon on the limited gacha. Please note that the inventory limit for these items still apply as they are materials, so 999 is their limit. Be careful to not waste time and stamina by over-farming them as the extras will NOT be sent to your mailbox. To see an example of this in the shop, please see the image above. 
Item/Equipment/Material exchange list:

Regular


01 October 2019 - 31 October 2019


01 September 2019 - 30 September 2019


01 August 2019 - 31 August 2019


01 July 2019 - 31 July 2019


01 June 2019 - 30 June 2019


01 May 2019 - 31 May 2019


01 April 2019 - 30 April 2019


01 March 2019 - 31 March 2019


21 February 2019 - 14 March 2019


14 February 2019 - 21 February 2019


01 February 2019 - 28 February 2019


10 January 2019 - 17 January 2019


01 January 2019 - 31 January 2019


31 December 2018


26 December 2018 - 31 December 2018